Easy to use. Powerful software. Priced right.
The
Maintenance Management

Blog

January 11, 2017

December 20, 2016

December 12, 2016

December 1, 2016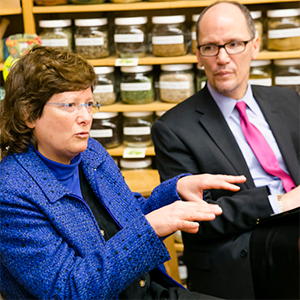 These days, companies around the world are more concerned than ever with improving business intelligence. Business intelligence (or BI) is the use of software applications that to analyze a company's raw data. BI is made up of several activities, such as online analytical processing, data mining, querying, and reporting. Analyzing the data helps companies make strategic business decisions. For example, a clothing store may use an application to analyze sales and decide which clothing to order more of and which to stop ordering. Using the data allows them to spend more money on items that sell well, which not only prevents the company from losing money on items that don't sell, but it allows them to keep up with the demand of items that do. BI can also be used to make bigger decisions, such as which plants or stores to close.
A CMMS can be a critical tool when analyzing business intelligence in a few different ways. MAPCON has recently incorporated a tool specifically for this, called the MAPCON Business Intelligence Reporting Tool, or MBIRT for short. The tool allows users to create custom reports which make it easy to analyze data and make informed business decisions.
MAPCON users can use MBIRT to create basically any report they want, which can help them make maintenance decisions. If users need to see which of their equipment has the most downtime or the most costly repairs, they can simply run a report which will highlight that information. The report also allows users to drill-down and get more specific information. The report can then be analyzed and used to make important business decisions. Managers may view the downtime report and decide that a piece of equipment has too much downtime and is costing them money, and therefore make the decision to replace it. An inventory usage report can also be run, which will show what is being used within the company and what isn't, which can save the company money when decisions about ordering parts or equipment needs to be made.
Data from business intelligence reports can also be looked at to determine if there's a certain time of year when more repairs are needed, which can be helpful. For example, when a company is planning for the fiscal year, they might need to find out what repair costs were for the previous year, broken down by month, to see if there are any patterns. They might notice that repair costs are higher during a certain time of year, which would help them plan ahead of time for those repair costs.
Reporting within a MAPCON can also be used to make human resource decisions. MAPCON allows users to run reports which show how many repairs were done per shift, per craft, and per employee. Those reports allow managers to monitor their employees and make staffing decisions as needed. The possibilities for a CMMS assisting with business intelligence analyzation are limitless. This is especially true when people are using MBIRT within MAPCON CMMS. To learn more about MBIRT, along with other helpful MAPCON features, click here.
November 14, 2016
October 26, 2016
October 5, 2016
September 20, 2016
MAPCON has nearly 30 years of CMMS Software experience and a proven reputation for continuous product support.
Experience the full feature set and unbelievable value of MAPCON Pro or MAPCON Lite today! Don't wait! To start, just Click Here! Or, call us now at 1-800-922-4336 or Email us with your request.
Easy to use. Powerful software. Priced right.
1-800-922-4336 • Email us