Easy to use. Powerful software. Priced right.
The
Maintenance Management

Blog
7 Benefits of Inventory Management
April 9, 2014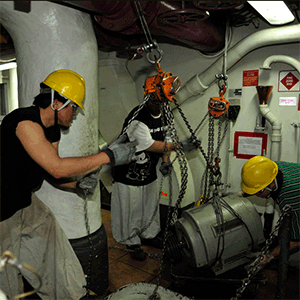 There are many benefits of inventory management, some obvious and some not so obvious. The bottom line is, if you have machinery or equipment under your command and don't use a computerized maintenance management system (CMMS) or some sort of inventory management software, you are doing yourself, your assets, and your company a serious disservice. To help you see the light, in this quick blog post, I'll discuss seven ways you can benefit from a great inventory management system.
Know Thyself (And Thy Inventory)
Before you can reap the benefits of inventory management, you first have to know what exactly is in your inventory. More than that, you need a system to manage that inventory. Inventory software such as a CMMS will help you know what exactly is in your inventory of machinery and equipment and begin to set up a true system to ensure that it works, gets maintained, and performs efficiently.
By its very nature, one of the benefits of inventory management is the ability to track every aspect of your assets, giving you valuable information and insight into your equipment.
Schedule Maintenance
Once you implement a system, you can then begin scheduling routine and preventative maintenance, issue work orders to your staff, and track that the maintenance was actually performed. This, in turn, helps ensure your equipment stays healthy and maximizes its life expectancy.
Avoid Inventory Imbalances
No matter your setting, your inventory consists of more than just machines and equipment – spare and replacement parts are also included in your assets, and an inventory management system is vital to tracking the number and location of these parts. Knowing how many parts you have and where you store them prevents you from ordering parts you already have, lowering your cost and increasing your company's profits. Being able to quickly locate those parts through your system (instead of trying to remember where you stored them) also helps you get back up and running quickly in the event of equipment failure – the sooner you can find those parts, the faster you can fix your machines!
Staff Appropriately
By studying your work order history and your maintenance schedule, you can usually accurately predict how much staff and how many man-hours you can anticipate needing during the year. With this number in mind, you can then schedule your employees appropriately and not just have workers standing around twiddling their thumbs. Or maybe you will find that your problem isn't over-staffing but under-staffing instead. Missing a routine maintenance here or there happens – but when you begin missing them frequently due to not having enough staff, things can go south very quickly.
Keep Order
If you have ever set foot in a facility without an inventory management system, it was probably fairly obvious. Facility managers that do not use a proper maintenance system usually have trouble keeping track of assets and executing work orders, so things tend not to be kept in their places and wear and tear shows in various places around the facility. This not only looks bad, but it can also be a safety hazard as well. Keep organized, and use a CMMS to help you do so!
Avoid Lawsuits and Regulatory Fines
As stated above, if your warehouse or facility is not in order, it can lead to safety hazards, which, in turn, can result in lawsuits, injury, and fines associated with not following regulatory rules. In addition, properly managing your inventory (which includes keeping records of your – and your staff's – activities) helps document your actions in the event of one of the above situations.
Cut Costs and Increase Profits
Last, but certainly not least, on our list is the fact that proper inventory management can help you cut costs and increase your profits. And at the end of the day, that's what business is all about!
Lisa Richards is an experienced professional in the field of industrial management and is an avid blogger about maintenance management systems and productivity innovation. Richards' undergraduate degree in Industrial Engineering opened the door for her initial career path with a Midwest-based agricultural implement manufacturer with global market reach. Over a span of 10 years, Lisa worked her way through various staff leadership positions in the manufacturing process until reaching the operations manager level at a construction and forestry equipment facility. Lisa excelled at increasing productivity while maintaining or lowering operating budgets for her plant sites. An Illinois native, Lisa recently returned to her suburban Chicago North Shore hometown to raise her family. Lisa has chosen to be active in her community and schools while her two young girls begin their own journey through life. Richards has now joined the MAPCON team as an educational outreach writer in support of their efforts to inform maintenance management specialists about the advantages in marrying advanced maintenance software with cutting-edge facility and industrial management strategies.
MAPCON has nearly 30 years of CMMS Software experience and a proven reputation for continuous product support.
Experience the full feature set and unbelievable value of MAPCON Pro or MAPCON Lite today! Don't wait! To start, just Click Here! Or, call us now at 1-800-922-4336 or Email us with your request.
Easy to use. Powerful software. Priced right.
1-800-922-4336 • Email us