Easy to use. Powerful software. Priced right.
The
Maintenance Management

Blog
9 Reasons Hotels Need CMMS Software
June 12, 2014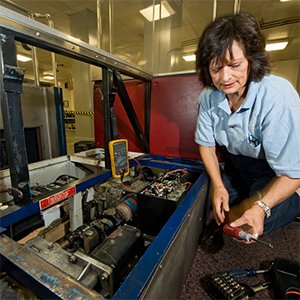 Facility managers have their hands full with the day to day responsibilities of keeping the buildings in working order, overseeing employees, dealing with vendors, and mounting stacks of paperwork. If you manage a hotel property (or many hotels), then things can get even trickier. If only there were some way to make things a little simpler…Well my friend, I am here to tell you there is. If you haven't employed the use of a CMMS yet (or even if you do), you should keep reading to see how this great piece of software can change your life.
There are so many benefits to computerized maintenance management software (CMMS), and to be frank, I am not sure how anyone in the facility maintenance and reliability industry can properly function without employing the use of some sort of maintenance software. Below are 9 reasons I think hotels, in particular, can benefit from its use.
Tracking Assets
I have said it before and I will say it again: there is, in my book, no way to properly care for your facility and the equipment under your care if you do not practice sound asset tracking principles. Without knowing what assets are under your care and their location (as well as the location of spare and replacement parts), it's pretty hard to perform maintenance tasks and stay on budget.
Safety Concerns
Hotels are frequented by guests night and day, and because of this, safety is a major concern. Poor lighting and visibility conditions in hallways and stairwells, leaks that can contribute to slips and falls, and unsanitary conditions such as sewage leaks are all things you need to stay on top of – and prevent – through proper preventative maintenance. A CMMS can help you do this and more!
Repeat Business
As with safety, repeat business – the meat and potatoes of any hotel chain – depends on a visitor's experience. A big part of this is the facility itself – does the air conditioning and HVAC system work properly? How about the television and Internet? How were the restroom facilities? Fixing problems as quickly as they arise – and performing preventative maintenance to make sure issues don't occur, is crucial. Stay on top of these things with maintenance software features.
Reporting
As hands-on as maintenance management jobs can be, a big portion of your responsibility is paperwork. Creating reports is essential to stay on track with your budget and prove that you performed due diligence in the event of a safety issue or equipment breakdown.
Documentation
CMMS are great at storing documentation – everything from information about the facility and machinery to vendor and warranty information. You can also store procedural documentation, reports, and any other sort of information you deem necessary to perform your job.
Cut Costs
Conducting preventative maintenance helps machines last longer and prevents minor problems from turning into major – and expensive – issues. A CMMS helps you schedule and track these PM work orders and also makes sure you do not double-order spare parts or machines – remember our talk about asset tracking above?
Increase Profits
Of course, at the end of the day, maintenance management software will not only save you money, but it will increase your profits by streamlining your department and saving you from becoming a dreaded cost-center. Other factors, such as increasing energy efficiency, all add up to make sure your hotel(s) stay in the black.
Improve Your Maintenance Routine
Another great thing about a CMMS' reporting features is that you can use this monthly, quarterly, and yearly function to spot weaknesses in your maintenance and worker schedule, then tweak and make improvements.
Justify Your Position
Finally, like any position within a company, your employer will want to know why you – and your staff – are pivotal to their company. With the handy toolset at your disposal, documentation features, and work-order/invoicing history, you will be able to prove that your role is not only crucial for the facility to run, but that you also help increase the profits of the company as a whole. And that, my friend, is what's best for business!
Lisa Richards is an experienced professional in the field of industrial management and is an avid blogger about maintenance management systems and productivity innovation. Richards' undergraduate degree in Industrial Engineering opened the door for her initial career path with a Midwest-based agricultural implement manufacturer with global market reach. Over a span of 10 years, Lisa worked her way through various staff leadership positions in the manufacturing process until reaching the operations manager level at a construction and forestry equipment facility. Lisa excelled at increasing productivity while maintaining or lowering operating budgets for her plant sites. An Illinois native, Lisa recently returned to her suburban Chicago North Shore hometown to raise her family. Lisa has chosen to be active in her community and schools while her two young girls begin their own journey through life. Richards has now joined the MAPCON team as an educational outreach writer in support of their efforts to inform maintenance management specialists about the advantages in marrying advanced maintenance software with cutting-edge facility and industrial management strategies.
MAPCON has nearly 30 years of CMMS Software experience and a proven reputation for continuous product support.
Experience the full feature set and unbelievable value of MAPCON Pro or MAPCON Lite today! Don't wait! To start, just Click Here! Or, call us now at 1-800-922-4336 or Email us with your request.
Easy to use. Powerful software. Priced right.
1-800-922-4336 • Email us