Easy to use. Powerful software. Priced right.
The
Maintenance Management

Blog
March Madness with MAPCON
March 13, 2017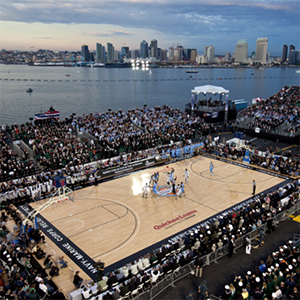 It's that time of year again – time for March Madness! As people are trading bracket tips, I can't help but wonder how a CMMS could assist with this process. Wouldn't it be nice if you could pull up a CMMS, such as MAPCON and run reports on all your favorite teams? You could use the reports to make educated bracket decisions, and maybe even beat your coworkers for once! Here's how I think a CMMS could assist with bracket decisions.
Inventory Management. In a maintenance department, inventory management is always a high priority. It is critical to have necessary parts on hand for when repairs are needed. The same can be said for a basketball team. Players and coaches always need to make sure they have the needed equipment and that it is up-to-par. No one wants a deflate gate scandal to hit college basketball! So, in this case, a CMMS can be used fundamentally to make sure teams have the equipment they need to make sure practice goes off without a hitch. MAPCON even allows users to set a minimum number required, and once that amount is reached, a purchase requisition for the needed equipment is automatically created and a notification can be sent to the team manager to reorder equipment.
Preventive Maintenance. When it comes to maintaining equipment, preventive maintenance (PM) is essential. PMs ensure that equipment is kept in tip-top shape, so downtime can be avoided. Imagine what it would be like if PMs were integrated into practices. Team coaches could set up PMs for each of their players, in the form of stretches and exercises. Once the task is complete, the player simply completes the PM on their mobile CMMS (such as MAPCON Mobile) and moves forward to the next one. It would be even better if fans were given access to the reporting function within the CMMS. If they wanted to know how their favorite teams and players stacked up, they could just run a report that shows completed PMs. Then fans can determine which teams will play the best based on exercises (or PMs) completed. The more PMs a team has completed, the better they will play. MAPCON's Work Order Resource Scheduler would make this process even easier. Players would be able to login to MAPCON and see exactly how much of their time is occupied by PMs. Coaches can also see how much time their team is spending on this and make any needed adjustments.
Work Orders. Just like in the maintenance world, PMs don't prevent every breakdown. And in this example, they wouldn't either. No matter how much a player stretches, exercises, or practices, injuries can and do still occur. When this happens, players must be evaluated by a doctor. I think a CMMS could be used in this case as well. Every time a player is injured and needs to have something "repaired", a coach or the player themselves could fill out a work order. Once the "repair" is completed, the team doctor would close it. Fans could then run a work order completion report on teams to see how many injuries occurred, and how they were addressed. If a report shows that a team had a lot of work orders, they might not be the best team to pick to go to the final four.
After considering it, I really think each college team AND their fans could benefit from the implementation of a CMMS!
Lisa Richards is an experienced professional in the field of industrial management and is an avid blogger about maintenance management systems and productivity innovation. Richards' undergraduate degree in Industrial Engineering opened the door for her initial career path with a Midwest-based agricultural implement manufacturer with global market reach. Over a span of 10 years, Lisa worked her way through various staff leadership positions in the manufacturing process until reaching the operations manager level at a construction and forestry equipment facility. Lisa excelled at increasing productivity while maintaining or lowering operating budgets for her plant sites. An Illinois native, Lisa recently returned to her suburban Chicago North Shore hometown to raise her family. Lisa has chosen to be active in her community and schools while her two young girls begin their own journey through life. Richards has now joined the MAPCON team as an educational outreach writer in support of their efforts to inform maintenance management specialists about the advantages in marrying advanced maintenance software with cutting-edge facility and industrial management strategies.
MAPCON has nearly 30 years of CMMS Software experience and a proven reputation for continuous product support.
Experience the full feature set and unbelievable value of MAPCON Pro or MAPCON Lite today! Don't wait! To start, just Click Here! Or, call us now at 1-800-922-4336 or Email us with your request.
Easy to use. Powerful software. Priced right.
1-800-922-4336 • Email us