Easy to use. Powerful software. Priced right.
The
Maintenance Management

Blog
Mine Business Intelligence from Your CMMS
March 20, 2017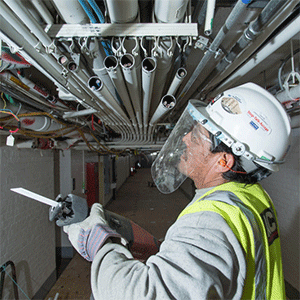 (This article appeared in the March 2017 issue of Maintenance Technology.)
Business Intelligence (or BI) analysis is crucial to any company's growth. BI is the use of software to analyze a company's raw data. Analyzing data by the use of reporting and analytics can assist with crucial business decisions. In the maintenance world, a CMMS is a vital part of obtaining this data.
Inventory Auditing. In the maintenance world, it's important to know how many parts are needed and when they need to be reordered. By running an inventory usage report within a CMMS, operators can find out exactly how many of each part were used over a specific amount of time. Once that information is gathered, a minimum number, or reorder point, of parts can be established to trigger automatic reorder to be approved and sent to the vendor. This will help ensure stock outs are no longer a problem, which will also prevent downtime and save the company money.
Predictive Analysis. For maintenance departments, being able to predict when equipment will fail is a big deal. A CMMS can determine based on meter or gauge readings and historical data, when a machine is most likely to break down again. For instance, if a machine breaks a belt approximately every 1000 hours, a CMMS can display that trend, and a technician can then set up a preventive maintenance task to change the belt every 950 hours. By using a CMMS to predict when the machine will break a belt, downtime can be avoided which will save the company money.
Preventive Maintenance (PM) Compliance. Since preventive maintenance information is stored within a CMMS, it is easy to analyze PM data. When reviewing PM information, managers can break it down by type of work done, employee, area, or other metrics. Looking over the information, users can determine why PMs are not completed on time, and make any necessary changes. For example, managers might look at the PM information and determine that a particular shift or employee isn't completing their PMs on time. This can result in hiring new workers, or providing additional training to current employees.
Failure Analysis. A CMMS will store historical data, such as repairs, for each piece of equipment. If a tech notices that a piece of equipment has had a lot of repairs, they can go into the equipment screen of their CMMS and analyze the failure codes stored there to determine the root cause. Techs can look at when repairs were done, downtime, preventive maintenance, and other things to come to a conclusion. They may discover that the machine breaks more belts in the winter due to colder temperatures. Knowing this, they can plan ahead and turn up the heat in the area, or order more belts at that time of year to prevent downtime.
HR Reporting. Reports within a CMMS can be run for things other than maintenance repair information. Many software programs also include the ability to run HR related reports, such as an open work order by craft or shift report. This allows managers to see the workload per shift or craft, which can be beneficial when it comes to hiring decisions.
Analyzing and understanding business intelligence data is a vital part of any company's success. A CMMS is an excellent tool for maintenance managers to use to make important decisions that will impact the future of their company.
Heather graduated from Loyola University with a Bachelor's degree in Communication. She is currently the Marketing Coordinator for Mapcon Technologies, Inc. She has been with the company since 2015. Heather has written industry articles that have appeared in magazines, such as Maintenance Technology, Biofuels International, and Plant Engineering.
MAPCON has nearly 30 years of CMMS Software experience and a proven reputation for continuous product support.
Experience the full feature set and unbelievable value of MAPCON Pro or MAPCON Lite today! Don't wait! To start, just Click Here! Or, call us now at 1-800-922-4336 or Email us with your request.
Easy to use. Powerful software. Priced right.
1-800-922-4336 • Email us