Easy to use. Powerful software. Priced right.
The
Maintenance Management

Blog
Maintaining Your HVAC System
June 21, 2017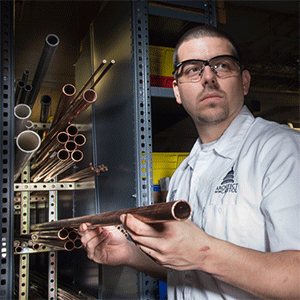 Picture this: It's mid-August and the heat index is easily over 100 degrees. You can't even walk to your car without breaking a sweat. The air is so thick with humidity, you feel like you could cut through it with a knife. As you walk into work, sweat beads forming on your forehead, you look forward to the refreshing chill provided by the AC unit in your facility. Now imagine that unit is broken. It's not a pretty sight, is it? So, how can you avoid this awful situation?
Know the importance of your HVAC system. The more you understand the importance of your HVAC system, the more likely you are to properly maintain it. You're also more likely to make maintenance and repair of the system a higher priority. You will also want to know what equipment and machines are impacted by the temperature, in case the HVAC system goes down. That way if it does break, you can pay extra attention to machines that could be impacted. You may even want to turn them off until the HVAC has been repaired.
Set up preventive maintenance. One of the easiest and most effective ways to decrease machine downtime is by setting up regular preventive maintenance tasks. Not only does this prevent issues before they arise, but it means technicians will be looking at the overall system on a regular basis. This makes them more likely to catch other potential issues before they cause the HVAC system to break down.
Make reactive repairs quickly. When it comes to HVAC system breakdowns, time is of the essence. Not only can the downtime effect workers in the facility, but it can also lead to other machines malfunctioning due to the temperature. This means any reactive repairs need to be addresses immediately. The addition of a mobile CMMS with notifications can be helpful for this. For example, MAPCON Mobile sends a notification to techs whenever a work order is dispatched, which means it will get immediate attention.
Ensure repair parts are on-hand. As bad as this imaginary situation is, it could be worse. Imagine a tech receives the work order and goes to complete the repair, but they discover a necessary part needs to be ordered. This means your HVAC system is going to be down a lot longer than you anticipated. This delay could have been prevented by implementing a CMMS that has automatic reorder, such as MAPCON. Automatic reorder allows users to set the minimum number required for parts and tools. Once the minimum number is reached, a purchase requisition is automatically created and a notice is sent to management to approve it. Streamlining this process decreases machine downtime since techs do not have to wait for parts to be ordered and received in order to make needed repairs.
Avoid Overuse. Finally, you should try and avoid overusing your HVAC system when possible. Of course there will be days during the summer when it will be running 24/7 for days on end. But if your equipment doesn't run the risk of overheating, it's probably a good idea to turn it off occasionally. This is another instance where knowing the importance of your system comes in handy. If you're able to turn it off for a few hours, definitely do so. It could prolong the life of your system, and decrease downtime.
Lisa Richards is an experienced professional in the field of industrial management and is an avid blogger about maintenance management systems and productivity innovation. Richards' undergraduate degree in Industrial Engineering opened the door for her initial career path with a Midwest-based agricultural implement manufacturer with global market reach. Over a span of 10 years, Lisa worked her way through various staff leadership positions in the manufacturing process until reaching the operations manager level at a construction and forestry equipment facility. Lisa excelled at increasing productivity while maintaining or lowering operating budgets for her plant sites. An Illinois native, Lisa recently returned to her suburban Chicago North Shore hometown to raise her family. Lisa has chosen to be active in her community and schools while her two young girls begin their own journey through life. Richards has now joined the MAPCON team as an educational outreach writer in support of their efforts to inform maintenance management specialists about the advantages in marrying advanced maintenance software with cutting-edge facility and industrial management strategies.
MAPCON has nearly 30 years of CMMS Software experience and a proven reputation for continuous product support.
Experience the full feature set and unbelievable value of MAPCON Pro or MAPCON Lite today! Don't wait! To start, just Click Here! Or, call us now at 1-800-922-4336 or Email us with your request.
Easy to use. Powerful software. Priced right.
1-800-922-4336 • Email us